The John E. Rooney Dynamic Scholarship
The John E. Rooney Dynamic Scholarship provides a grant for post-secondary education to a youth from UCAN who embodies the role of a leader. This scholar is selected based upon the quality of his or her application and an interview with selected UCAN board members, staff and youth ambassadors. Each youth must have demonstrated the following to qualify:
Completed high school with a minimum 3.0 grade point average.
Showed intent to continue an education to an accredited two-year or four-year college, university or vocational training school.
Demonstrated leadership abilities in academics and extra-curricular activities in school and within the community.
About the Rooney Family
The late John E. Rooney, also known as Jack, was the President & Chief Executive Officer of U.S. Cellular Corporation. He became a prominent leader in the Chicago business community by creating value-based cultures within the companies he ran. He believed a company's culture should motivate employees to demonstrate customer focus, respect, empowerment, pride and ethics. The business model he used while at U.S. Cellular was based on effective leadership, and in 2004 U.S. Cellular established this scholarship to honor him for his own leadership. Since then, this scholarship has given young people the chance to pursue their dreams of a college education and the opportunity to become successful leaders.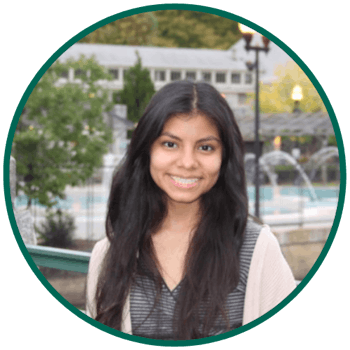 Isabel Gaspar
Nominated by: Andrea Lee
Program Description: Youth Peace Council
Isabel graduated from Noble Street College Prep in 2018 and is currently a junior at Agnes Scott College in Georgia. She is the Vice President of Pathmakers, an organization for first-generation students, as she is a first-generation American. Isabel is considering a social justice major and a minor in Philosophy. She has volunteered for UCAN during her summers and par-ticipated in UCAN's Youth Peace Council. She also is a member of the Environmental and Sus-tainability Club and the Cross-Country Club at Agnes Scott.
Steans Family Youth Leadership Award Scholarship
The Steans family-Harrison, Lois, and their three daughters, Heather, Jennifer, and Robin-created the Foundation in 1986 to sponsor a class of sixth graders through the "I Have a Dream" program. The Steans Family Foundation concentrates on helping youth in the North Lawndale, a community on Chicago's west side, and North Chicago, a city 40 miles north of Chicago. This year, UCAN is honored to announce our new The Steans Family Foundation Youth Leadership award winner Darrion O'Neal.
The Steans Family Foundation Youth Leadership Awards are given to UCAN youth who demonstrated exceptional leadership and advocacy for themselves, the community, other youth, and UCAN programs in the following areas: Personal development, educational achievement, civic participation, and emotional and spiritual well-being. It is intended for he or she to continue their education after high school. The remarkable scholar is selected based upon the quality of his application and an interview with selected UCAN board members, staff, and youth ambassadors.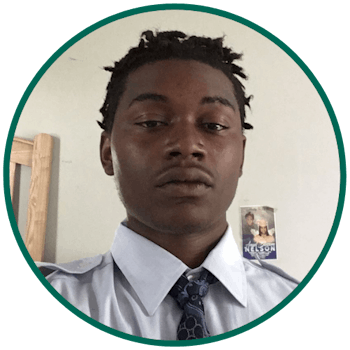 Darrion O'Neal
Nominated by: Roy Pierson
Program Description: Violence Intervention and Prevention Services
Darrion is graduating from John Marshall High School this month (June 2021). Darrion currently works at Farm on Ogden, where he gardens and grows produce. He is interested in a career in construction and carpentry.
He has participated in Workforce Development programs to prepare for his life after graduation. He originally came to UCAN in 2018 as part of our Violence Intervention and Prevention Services program.
Youth Leadership Award Winners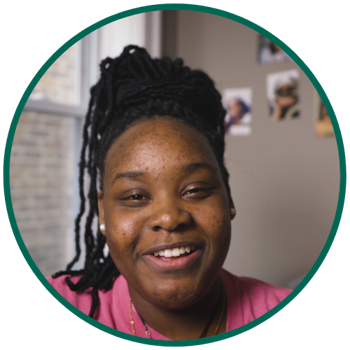 D'aaliyah Hamilton
Nominated by: Andre Robinson
Program Description: Educational Mentoring
D'aaliyah plans on going to college next year, and though she is is not sure which school she will attend, she wants to pursue a career in the health field. During her senior year, she worked at a warehouse in the evenings and went to school during the day, including taking extra clas-ses, to ensure she would graduate on time. She will graduate from Chatham Academy High School this month (June 2021). In her free time, she loves writing and cooking.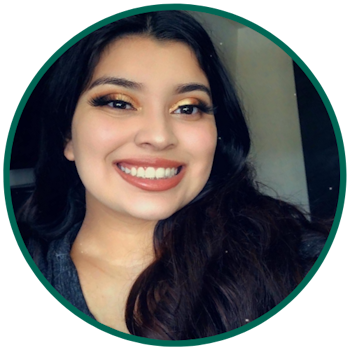 Sulamita Alvarez
Nominated by: Neftaly Moran
Program Description: Transitional Teen Services
Sulamita graduated from Gurdon S Hubbard High School in 2019 and is currently following her passion for makeup by studying to become an esthetician at Tricoci University, where she started this past spring. She is a mother to a one-year-old daughter and hopes to one day start a business to support her family. She also loves photography, specifically taking photos of na-ture. Sulamita has participated in many UCAN programs, such as the Diermeier Future Leaders Now Program, and city programs like One Summer Chicago.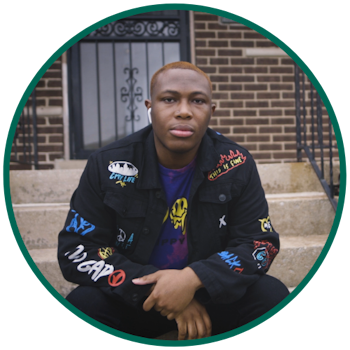 Angelo Mauldin
Nominated by: Chase Larkin
Program Description: Project Visible Man (Counseling and Youth Development Services)
Angelo has a passion for technology and gaming. He graduated from Chicago International Charter School in 2020 and he is interested in pursuing a career in the IT field. He currently is working at Facebook, which he is enjoying. Angelo came to UCAN through Project Visible Man, a male youth mentoring group, in which he has been participating for years.
College Undergraduate Success Program
CUSP (Comprehensive Undergraduate Success Program) was created to support UCAN college-bound youth. Each year, CUSP will provide support to two youth who have undergone a rigorous application process that includes an assessment of their skills in the following four areas:
Achievement: Motivated to grow and learn; engaged in learning experiences; decision-making skills; learning from one's failures
Intention: Behaving with integrity; being honest; making responsible decisions and demonstrating the ability to handle responsibility; having a sense of purpose and a vision of what he/she would like to impact
Motivating Others: Passionate about advocacy; having the capacity to develop healthy relationships; valuing differences and similarities in people; understand the importance of resolving conflict peacefully; have influence over others
Empowerment: Understanding that one has some control over his/her environment, and how to use one's voice responsibly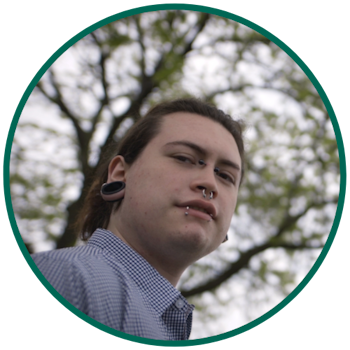 Hector Webber
Nominated by: Leslie Mendoza
Program Description: Counseling and Youth Development Services
Hector is currently a freshman at Olivet Nazarene University where he studies music education and music engineering. Hector has been playing the drums, basic guitar, and guitar since he was 6 years old. His dedication and talent lead him to be the director of music for The Salva-tion Army for 7 years.
He was chosen to be part of the Territorial Worship Collective which is a music congregation at the Midwest level summer of 2020. Hector came to UCAN a year ago through our Counseling and Youth Development Services program.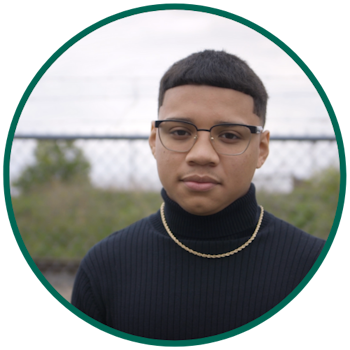 Cesar Reyes
Nominated by: Leslie Mendoza
Program Description: Counseling and Youth Development Services
Cesar is currently a senior at Noble Street College Prep and will attend Olive Harvey College. He never shied away from leadership positions, whether it be as a junior captain of his soccer team, a lifeguard, or a teacher's aide.
Cesar has always made it a point to identify pieces of his life that he wants to improve, and then takes measured, impactful steps towards his goals. He intends to one day open a business and be his boss.
John W. Rogers, Jr., John D. Nichols Impact Award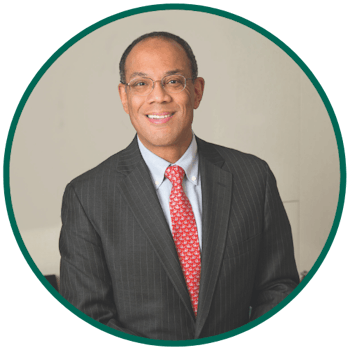 John's passion for investing began at age 12 when his father began buying him stocks as Christmas and birthday gifts. His interest in equities grew at Princeton University, where he majored in economics, and over the two-plus years he worked as a stockbroker for William Blair & Company, LLC. In 1983, John founded Ariel to focus on patient, value investing within small- and medium-sized companies. While our research capabilities have expanded across the globe, patience is still the disciplined approach that drives the firm today. Early in his career, John's investment acumen brought him to the forefront of media attention and culminated in him being selected as Co-Mutual Fund Manager of the Year by Sylvia Porter's Personal Finance magazine as well as an All-Star Mutual Fund Manager by USA TODAY.
Furthermore, John has been highlighted alongside legendary investors Warren Buffett, Sir John Templeton and Ben Graham in the distinguished book: The World's 99 Greatest Investors by Magnus Angenfelt. His professional accomplishments extend to the boardroom where he is a member of the board of directors of McDonald's, NIKE and The New York Times Company. John also serves as vice chair of the board of trustees of the University of Chicago. In 2008, John was awarded Princeton University's highest honor, the Woodrow Wilson Award, presented each year to the alumnus or alumna whose career embodies a commitment to national service. Following the election of President Barack Obama, John served as co-chair for the Presidential Inaugural Committee 2009, and more recently, he joined the Barack Obama Foundation's Board of Directors. John received an AB in economics from Princeton University, where he was also captain of the varsity basketball team.